"Get more than you can see with the naked eye from an enhanced infrared camera inspection".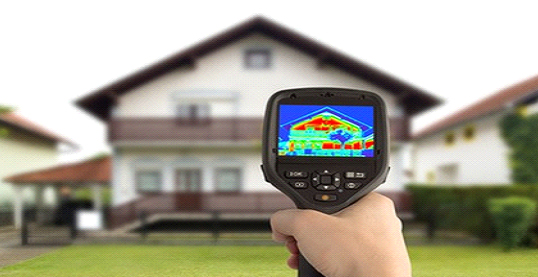 Infrared Thermal Imaging Home Inspections
A Qualityspec Infrared Home Inspection allows you to get more detailed information about the home you own or the home you are looking to buy. An infrared home inspection can reveal many hidden issues in a home that would not be visible to the naked eye. A Qualityspec Infrared Home Inspection can be used to detect hidden water problems, missing or failing insulation, areas of energy loss, and much more. Our professional services will provide you with the information you need to make educated decisions about the condition of your home and its systems. Whether you are concerned about wasted high energy costs, leaks, smells or quality assurance, a Qualityspec Infrared Home Inspection can help.
"You haven't seen your home until you've seen it in infrared!"

A Qualityspec Infrared Home Inspection offer advantages to you over typical inspectors who lack our Infrared Thermal Imaging Technology and Training. In fact, less than five percent of home inspectors even use Infrared technology, although what we find using infrared imaging can help you save hundreds, even thousands of dollars per year by detecting moisture, insulation and electrical issues before they pose a bigger risk to your property, fiscal or personal well-being.
These benefits to you: An infrared thermal imaging inspection can identify and document:
Energy loss and efficiency
Unknown plumbing leaks
Hidden roof leaks, before they cause serious damage
Electrical faults before they cause a fire
Overloaded and undersized circuits
Circuit breakers in need of immediate replacement
Missing, damaged, and/or wet insulation
Heat loss and air infiltration in walls, ceilings, floors, windows and doors
Water and moisture intrusion that could lead to mold
Possible rodent or pest infestation
Air conditioner compressor leaks
Under fastening and/or missing framing members
Structural defects
Broken seals in double pane windows
Dangerous fluid leaks
Damaged and/or malfunctioning radiant heating systems
Overheated equipment
Use your infrared home inspection for:
pre-purchase
Warranty Inspections
Renovation Inspections: Pre and Post
construction phase inspections
locating missing, damaged and wet insulation
moisture, electrical, mechanical, and roof inspections
Assessment of your homes health – Do you have mold?
to improve your homes efficiency, performance and its personal comfort
A typical Qualityspec Infrared Home Inspection on a 2000 – 2500 sq. ft. home usually takes about 1.5 to 2 hours. This includes the actual thermal scan, obtaining both… the Infrared and digital images, then carefully interpreting and explaining our findings to you. You also have this time to consult with us as to "How you can properly correct deficiencies that are located with the thermal Imaging".
We utilize state of art FLIR camera and trained by NACHI Infrared Training Centre. This is a globally recognized certification (Level 1 Tomography).
Electrical Panel
This example is excellent. It shows a hot circuit breaker. This definitely would not have been seen without using a thermal imager.
The cause of this hot circuit could be from a wire that is not capable of handling the load on this circuit and could be considered a fire hazard.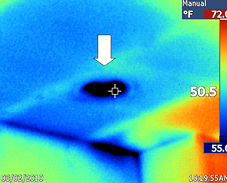 Ceiling – Missing Insulation
This is another great example of why using the thermal imager is critical to uncovering hidden potential problems.
You definitely would not see the missing insulation in the ceiling around this light fixture.
Any missing insulation is a prime money waster – and the thermal imager tells all!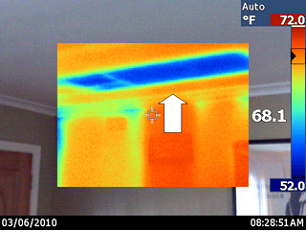 Ceiling – Missing Insulation
In this example, we see that an entire section of the ceiling is missing insulation.
Is this a deal killer? Not at all This can be corrected…If you know about it!
Master Bedroom, Bathroom, and Closet Completely Missing Ceiling Insulation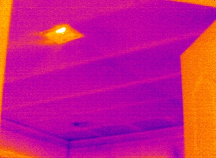 The home owner wondered why the master bedroom was so uncomfortable year-round. This builder "oversight" cost the homeowner a significant amount of money as well as making them uncomfortable in their own bedroom. The builder had been out several times and stated that nothing was wrong.
FREQUENTLY ASKED QUESTIONS
Q. What is infrared thermography and how does it work?
Thermography is a type of infrared imaging. Infrared cameras detect radiation in the infrared range of the electromagnetic spectrum and produce images of that radiation.
Q. Is infrared thermography for me?
As maintenance professional, if you are under task to to keep your facility or utility reliable, with zero unexpected breakdowns, and zero catastrophic failures, then you will find infrared thermography is an indispensable tool in a total maintenance program.
Q. Can thermal imaging cameras see through the walls?

No. It appears as though you are but what you are actually seeing is the temperature changes on the wall due to material or moisture directly on or behind the wall. And no, it can't see through clothing or windows.
Q. How does infrared thermography detect moisture?
As moisture evaporates, it creates a cooling effect similar to getting out of the shower and standing under a fan.
Q. Is a hot spot bad?
A hot terminal connection affects your system in a couple of ways:
1. it is a power loss. You are paying extra in your electrical bill for all hot connections. The electrical meter does not care whether the power is going to turn a motor or heat the air. Therefore, a hot connection reduces plant efficiency.
2. Failure. Most damage occurs when the electrical connection actually fails. The arc that is caused when the connections separate will melt most metals. A connection that would have cost $200 in parts and lab our to repair could cost the owner in excess of $500,000 in damage.
3. The fire caused by the failure could destroy an entire complex.
Q. What is included in the report?
You will receive a comprehensive report with an inventory of all scanned images with digital side by side. It will provide in clear written detail all the thermal anomalies detected as well as recommendations for repair.
Q. Should new construction be inspected?
Absolutely! New construction does not guarantee perfection. Locate problems and eliminate any problems not visible to the naked eye.
Q: What is the Cost of a Thermographic Survey?
A: Quality, high performance infrared imaging equipment is VERY expensive. Performing a complete thermal imaging scan of the entire home also adds extra time to the Traditional Home Inspection or Energy Audit.
 The cost of a Thermographic Survey is based on the amount of work that is involved in the Survey, please contact our office for details.